About Us
About Flower Forrest
Flower Forrest your local florist in San Antonio has been proudly delivering the freshest flowers in San Antonio since 1986. Full service retail shop making same day deliveries throughout the San Antonio area. Texas Master Florist owned and operated with one location serving the San Antonio area. We are committed to offering only the finest floral arrangements and gifts, backed by service that is friendly and prompt. Because all of our customers are important, our professional staff is dedicated to making your experience a pleasant one. That is why we always go the extra mile to make your floral gifts perfect.
Let Flower Forrest be your first choice for flowers.
Daily Deliveries to all hospitals & funeral homes.Deliveries twice per day - large delivery area - centrally located freshest flowers ordered direct from the grower- talented floral design team led by owner Gina Waters AAF, TMFA - 100% satisfaction guaranteed.
Flower Forrest
7101 San Pedro Ave
San Antonio, TX 78216
---
Store Hours:
Monday - Friday 8-5 Saturday 8-12
Store Hours
Our shop is open from 8:00 a.m. to 6:00 p.m., Monday through Friday and from 8:00 a.m. to 12:00 p.m. on Saturday.
We are closed on Sundays.
To help assure on-time delivery during the busy holiday season, place your order at least 1 day prior to the following major holidays: Thanksgiving Day, Christmas Day, New Year's Day, Valentine's Day, Easter, Administrative Professionals Week, Mother's Day, Memorial Day, Father's Day, Independence Day and Labor Day.
Our shop will always be closed on the following holidays: Thanksgiving Day, Christmas Day, New Year's Day, Easter, Mother's Day, Memorial Day, Father's Day and Independence Day.
Specialty Services
We specialize in the following services:
European/dish gardens
Contemporary and traditional arrangements
Funeral designs
Gourmet and fruit baskets
High volume funeral work
Customized family prices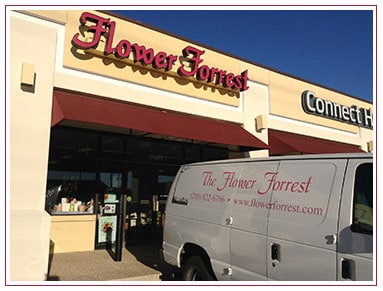 Reviews
Check out out reviews on
Google
!
Brady even noticed the flowers and appreciated it. When we get the pictures I will send you some because you all did some great work.

Blessings to your whole team with a grateful heart,
Jamie
Dear Gina,

I wanted to thank you for all that you did to make Brady's wedding special. The bridal bouquet and the flowers at the front of the church were just beautiful!
I appreciate so much the very special consideration and help that you all were to me. To have the flowers delivered here was a huge help, and then to have you all arrange the flowers on Saturday made it all possible. I clearly could not have done it without your help!
Mr. Waters

Thank you for sponsoring the beautiful Yellow Roses for Coronation. I have saved a few for my scrapbook and mementos and was so honored to receive them as I was crowned Miss Rodeo Texas this week. Such an amazing honor and I sincerely appreciate your support in making my dreams come true!

Sincerely,
Stephanie Reobs
Dear Mr. Waters

We, the Miss Rodeo Texas contestants, would like to thank you for your support of our pageant and the Miss Rodeo Texas Association, Inc. Your dedication to our pageant enables each one of us to go through the most remarkable experience of a lifetime and helps to prepare us to become valued, productive citizens with high moral values.

We sincerely appreciate your support of miss Rodeo Texas in all that you do for the pageant and throughout the year.

Sincerely,
Miss Rodeo Texas Pageant Contestants
Contact Information
If you have any questions or need more information, please contact us by e-mail at flowerforrest@yahoo.com or call us directly at (210) 822-6766. We're always here to serve you and make your flower-sending experience a pleasure.
Flower Forrest
7101 San Pedro Ave
San Antonio, Texas 78216
Delivery Policy
A local delivery fee will be added to each order, for each address.
(For deliveries outside our local delivery area, this fee may vary.)
U.S. orders must be received before 12:00 noon in the recipient's time zone to assure same-day delivery. Orders received after that time will be delivered the following day.
We will do our best to accommodate deliveries at specific times of day, but we cannot guarantee it.
We are unable to make deliveries on Sundays. Deliveries requested on this day will be delivered the following business day.
Delivery of orders to rural route addresses or cemeteries cannot be guaranteed. We will be happy to accept your international orders if you call our shop directly. We are unable to accept international orders over the Internet.
Payment Options
We accept the following payment methods:
Visa
MasterCard
Discover
American Express
Substitution Policy
Occasionally, substitutions may be necessary to create your bouquet due to the availability of certain flowers in various parts of the country. Care is taken to maintain the style, theme and color scheme of the arrangement, using flowers of equal value. Additionally, the substitution of certain keepsake items may be necessary due to increased demand, especially during major holidays. In single-flower arrangements, such as an all rose bouquet, or orchids, we will make every attempt to match the flower type, but may substitute with another color.
Areas Served
Our shop serves the following areas:
San Antonio
We also deliver to the following facilities:
Advanced Living Technologies
Air Force Village I
Air Force Village II
Air Force Village Protestant
Alamo City Mortuary Svc
Alamo Heights Health & Rehab
Alt Affordable Housing Svc
Alta Vista Nursing Ctr
Amarillo Nursing Ctr
Amber Oaks
American Golden Burial Plans
American Mortuary
Angelus Funeral Home
Army Residence Community
Army Retirement Residence
Audie L Murphy Veterans Hosp
Aurora Apartments
Autumn Winds Retirement Lodge
Avalon Place San Antonio
Baeza Home Care
Baptist Health System
Baptist Health System Pho
Baptist Medical Center
Baptist Medical Ctr
Barton House
BBW Mortuary Services Co Inc
Bexar County Mortuary Svc
Brighton Gardens
Brooks Army Medical Center
Camlu Care Ctr
Cancer Therapy & Research Ctr
Carter-Taylor-Williams Mrtry
Casa De Padres Resident Assn
Castillo Mission Funeral Home
Castle Ridge Mortuary
Catherine King Facility
Catholic Cemeteries Counseling
Center For Children & Families
Centromed Family Resource Ctr
Chandler Center
Chandler Health Care Ctr
Chandler Retirement Apartments
Chapel Hill Memorial
Charlene Edwards Prsnl Cre Hme
Children's Hosp of San Antonio
Christian Village Retirement
Christus Health Svc
Christus Santa Rosa Hospital
Christus Transplant Institute
Clarity Child Guidance Center
Collins Funeral Home
Compass Hospital-San Antonio
Country Club Village Apartment
D W Brooks Funeral Home
Delgado Funeral Home
Dellcrest Funeral Home
Forum At Lincoln Heights
Fredricksburg Care Ctr
Full Life Communities-Senior
Funeral Caring USA
Funeral Caring USA Funeral Hm
Funeral Consumer Alliance
Funeraria Del Angel Roy Akers
Funeraria Del Angel Trevino
Gamma Knife Of San Antonio
Golden Manor Jewish Home
Granada Homes Inc
Grand Court II San Antonio
Grayson Square Health Care Ctr
Guzman Personal Care Home
Happy Home Adult Personal Care
Hardin Mortuary Services
Hardy's Mortuary
Haven In Stone Oak
Healthlink
Healthsouth Riosa
Healthsouth San Antonio Srgry
Heart Hospital Of San Antonio
Heart Hospital Of South Texas
Hearthstone Assisted Living
Heartland Of San Antonio
Highland Gardens Personal Care
Highland Nursing Ctr
Hill Top Lodge
HillCrest Funeral Home
Holy Ghost Sisters Convent
Homewood Residence-Castle Hill
Homewood Residence-Shavano Pk
Homewood Suites Of Airforce
IHS Hospital At San Antonio
Incarnate Word Retirement Comm
Independence Hill At Stone Oak
Inn At Los Patios
Institute For Women's Health
Kindred Hospital-San Antonio
Kingsley Place-Oakwell Farms
Kingsley Place-The Medical Ctr
La Paz All Faiths Funeral Home
Laurel In Stone Oak
Laurel Ridge Hospital
Laurel Ridge South
Leon Valley Care Ctr
Lewis Funeral Home
Lodge At Leon Springs
Madison Estates
Manor Care Health Svc
Max Martinez Mortuary Inc
Mayfield Care Ctr
Mc Cullough Hall Nursing Ctr
Meadows Retirement Community
Medical Center Nursing Fclt
Memorial Funeral Home
Merrill Gardens At San Antonio
Methodist Ambulatory Surgery
Methodist Cancer Ctr
Methodist Children's Hospital
Methodist Family Health Ctr
Methodist Hospital
Methodist Spec & Transplant
Methodist Specialty and
Methodist Stone Oak Hospital
Metropolitan Methodist Hosp
Mission North Central
Mission Oaks Manor
Mission Park Funeral Chapels
Mission Park Funeral Chapels &
Mission Park Funeral Chapels N
Mission Park Funeral Chapels-
Missionhurst Cicm
Morningside Manor
Morningside
Ministries
Mpii Inc Funeral Home
Nba Patriot Heights Rtrmnt
New Vista Lodge
Next Care Hospital-San Antonio
Nix Alamo Heights
Nix Behavioral Health Svc
Nix Health Care System
Nix Home Care Nix Medical Center
Normandy Terrace Inc
Normandy Terrace Southeast
North Central Baptist Hospital
Northeast Bapstist Hospital
Northeast Methodist Hospital
Northwest Oaks Guest Home
Oak Hills Mortuary
Olinger-Saenz Mortuary Service
One Towers Park Lane Corp Co
Ortiz Mortuary Inc
Palm Heights Mortuary Paramount Rehab
Parklane West Healthcare
Pasteur Plaza Surgery Center
Porter Loring Mortuary
Porter Loring Mortuary North
Progressive Retirement Plnnrs
Puente And Sons Funeral
Regent Care At Medical Ctr
Regent Care Ctr At Oakwell
Regent Care Ctr Of San Antonio
Rivercity Care Ctr
Roseville Apartments
Roy Martin's Morticians Svc
San Antonio Mortuary
San Antonio Pre-Needs
San Antonio State Hospital
San Jose Nursing Ctr
Santa Fe Square-Manor Apts
Santa Rosa Outpatient Rehab
Sante Fe Apartments
Sarah Roberts French Home Bus
Schaetter Funeral Home
Schertz Funeral Home
Select Specialty Hospital
Silver Creek Manor
South Texas Cardiovascular Lab
Southeast Baptist Hospital
Southeast Nursing & Rehab Ctr
Southside Funeral Home
Southwest Care Ctr
Southwest General Hospital
Spine Hospital Of South Tx
St Francis Nursing Home
St Luke's Baptist Hospital
St Luke's Behavioral Health
Sterling House
Summit Care Texas
Summit Newforest Retirement
Sunrise Convalescence Ctr
Sunset Funeral Home
Sunset Memorial Flower Shop
Sunset North Funeral Home
Sunset Northwest Funeral Home
Sunshine Care
Sutton's Paradise Funeral Home
Sutton-Sutton & Woodards Mortu
Teresian Sisters
Texas Center For Infectious
Texas Transplant Institute
TexSan Heart Hospital
Timberhill Communities
Tobin Hill Assisted Living
Towne Oaks Residence
Trevino Funeral Home
Trinity Care Ctr
Ultracare Independent Living
Union Pines Apartments
University Hospital
Urschel Pavilion
Verbena House Victory Medical Center
Villa De Amistad
Villa De Oro Personal Care Inc
Villa De San Antonio
Village Oaks At Hollywood Park
Walnut Manor Apartments
Warm Springs Rehab Hospital
Warm Springs Rehab System
Warm Springs Rehabilitation
Waterford At Thousand Oaks
Waterford On Huebner
Wedgewood Highrise Apartment
Westminster Square Apartments
Wilford Hall Medical Center
William Booth Garden Apt
Williamsburg The Care Ctr
Zizik-Kearns Riebe-Saunders
Privacy Policy
This privacy statement has been created in order to demonstrate our firm commitment to protecting customer privacy.
Information We Collect
If you open an account on our site or make a purchase, we need your contact information including your name, e-mail address and mailing address to complete your transaction.
When you visit our website, we also collect some basic information that does not identify individual users. We use this information to determine our users demographics and interests, so that we can better understand and serve our users.
"Cookies"
Cookies are small files which store certain information about your activity on the website and are stored on your computers hard drive. Our cookies do not contain any personally identifying information. We use cookies to let us know that you are a prior customer, so that you dont have to reenter information you gave us on your prior visits. Most web browsers automatically accept cookies, but most allow you to instruct your browser to prevent the use of cookies. However, if you disable cookies, you will not be able to use certain features of this website.
Our Use and Disclosure of Your Information
When opening an account or making a purchase, you have an opportunity to opt-in or opt-out from receiving emails from us. If you opt-in to receive information from us, we may use your purchase history, contact information and other registration information to provide you with more relevant information and email content. We may send emails to our users regarding changes in our services or other information we believe will be of interest to our users. If you prefer not to receive these emails, you can send us an email with the subject line no emails or reply to our email with the subject line no emails.
If you send us personal correspondence, such as emails or letters, or if other users or third parties send us correspondence about your activities on our site, we may collect such information. We may use that information and other information that we obtain from your use of our site to resolve disputes, troubleshoot problems and enforce our agreement for Terms of Use.
We may share aggregate statistics about our sales, traffic patterns and related site information with other businesses, but these statistics will include no personally identifying information.
We may share your information with Teleflora and other reputable vendors for the purpose of sending out special offers via email and/ or in connection with the services provided by our site such as the delivery of flowers. Your information will not be shared for any other purpose and will be kept secured.
We cannot ensure that all of your private communications and other personally identifiable information will never be disclosed in ways not otherwise described in this Privacy Statement. For example, we may be required to disclose information to the government or third parties under certain circumstances, or third parties may unlawfully intercept or access transmissions or private communications. We can (and you authorize us to) disclose any information about you to law enforcement or other government officials as we, in our sole discretion, believe necessary or appropriate in connection with an investigation of fraud, intellectual property infringements, or other activity that may be illegal or may expose us to legal liability.
Security
This site has security measures in place to protect the loss, misuse and alteration of the information under our control.
All user credit card information is securely communicated using secure socket layer (SSL) software, which is the industry standard and among the best software available for secure commerce transactions.
All user information stored on our server is stored in an encrypted format. Notwithstanding these efforts, we caution you that perfect security does not exist on the Internet.
Linked Sites
If this site contains any links to other websites, we are not responsible for the privacy practices or the content of such websites.
Changes to Privacy Statement; Consent
We may update this Privacy Statement from time to time. You should check this page periodically for changes. By using our site, you consent to the collection and use of your information by us as described in this Privacy Statement.
Questions and Comments
We welcome your questions and comments about this Privacy Statement.
Yellow Roses San Antonio | New Baby Flower Arrangements | Anniversary Flowers San Antonio